Marc has been a cannabis cultivator of 25+ years and oversees the breeding and cultivar selection as well as the vision for the Diesel Hemp™ line.
Marc grew up in south Florida where he cultivated his first cannabis plant at the age of 15. He went to the University of Florida where he graduated with a business degree and exceled at his indoor cannabis growing skills. After some additional years of growing in South Florida and finishing his MBA at Florida Atlantic University, he moved to North Carolina to develop real estate and further develop his cannabis growing experience and property aquisition. Marc then moved to Arizona and started a publicly traded medical marijuana real estate investment trust, Zoned Properties. After a few years he relocated to southern Colorado and started Los Suenos, a large outdoor cannabis farm. At that time, he learned about hemp and large-scale outdoor cultivation. It was after that he started CBDRx, the first cannabis company to obtain a USDA organic certification for their hemp.
After CBDRx, came HempMy Pet™, Colorado CBD Seed,™ Diesel Hemp™ and Diesel Beverages™, all which he is currently CEO of and Co-Founder of with his business partner, Natalie Mondine.
COO, CO-FOUNDER, & FORMULATOR
Natalie, originally from Pittsburgh, PA has lived out west for almost 20 years.
With deep roots in the natural products industry, Natalie has studied herbal medicine for over 17 years, 7 of them in the Hemp industry. She has built, managed, and directed production labs, created dietary supplements, herbal formulas, and has brought 8 product lines to market, including a pet line.
Natalie brings many years of specializing in Quality Assurance, Quality Control and compliance to the table. She is responsible for obtaining the first USDA organic certification for a Hemp crop in the US in 2015 (for a company which Marc was the founder of and of which she was Director of Quality Assurance). She is the creative director for all things Diesel and gets to integrate her love of art and design into the brand.
Natalie's intense love and knowledge of plants and herbal medicine has led her to create the Diesel Hemp™ vision and product line that promises to be a new and invigorating take on Hemp products.
Natalie is currently the Co-Founder and COO of HempMy Pet™ and Colorado Cbd Seed™ as well as Diesel Hemp™ and Diesel Beverages™.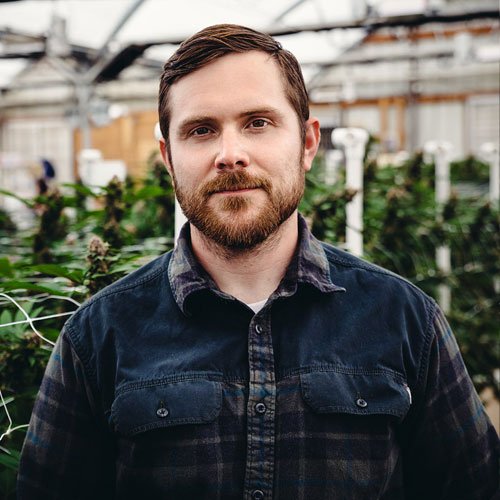 Born and raised in rural Illinois, Graham developed a love for being outside and working with plants early on.
Graham persued his degree in Forestry Sciences, but It wasn't until he started cultivating Cannabis that he found his true calling. Graham spent years in the commercial marijuana industry honing his horticultural skills and learning all there is to know about this amazing plant.
Graham is extremely proficient in Cannabis cultivation, breeding, living soil, microbes, IPM (integrated pest management) and organic growing practices.
Graham has taken our grow operations to the next level, and does not settle for anything less than the absolute best when it comes to the plants and products that we produce.
Mark's love for cannabis goes back many years, but started professionally at a laboratory supply company. Here he acquired a vast knowledge of cannabis extraction equipment and techniques which he has applied to both the marijuana and hemp industries.
Mark has experience in hydrocarbon, solventless, CO2, and alcohol extraction, but specializes in post-processing. He has certifications in fractional distillation as well as cannabinoid chemistry and CBD isolation. He has a keen eye for detail and is devoted to making the highest quality extracts.
After 5 years of industry experience, Mark has found that terpenes are his true passion, so much so that he even named his dog Terp! Mark's vast knowledge of chemistry, and scientific methodologies are what make his extraction techniques and our concentrates, some of the best around.
Diesel Hemp™ was born out of true passion for the Cannabis plant and what we know it to be truly capable of.
With over 30 years collectively in the Cannabis space, Marc's cultivation and business background combined with Natalie's herbal dietary supplement and formulation background, brings a new take on the Cannabis experience.
Experience
Having years of experience in the Hemp industry since it's inception in Colorado, and being dissatisfied with the quality of products that are flooding this industry, we choose to start this company without any investors so that we could truly go after our vision without any interference or red tape. We have a team of professional growers, extractors, formulators and processors that take quality and consistency very seriously.
The mission
The mission of Diesel Hemp™ is to share our passion through the boutique, high-end products that we produce ourselves. Our Cultivar-specific product line derived from our in-house bred and grown, proprietary cultivars are truly unique and rare. Our products are NOT made by someone else, our Hemp is NOT bred, grown or produced by anyone else, as we are truly a vertically integrated company, with 100% control over our supply and quality.
Integrity
Integrity is paramount to us, and it is reflected in each product and the way we choose to do things everyday. Our hope is that you experience the curated and purposeful intention as the passion seeps out of each product. Enjoy.
— Marc and Natalie, Founders of Diesel Hemp™